Florida State Senator Garrett Richter's "new" district edges closer to Immokalee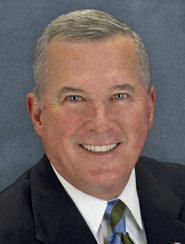 One of Southwest Florida's – and Immokalee's – favorite Florida lawmakers has a newly redrawn district that - almost – includes Immokalee for the first time.
Florida State
Senator Garrett Richter, R-Naples,
had his state senate district redrawn yet again because the Florida Supreme Court ruled unconstitutional the "new" districts drawn in February by the Florida Legislature.
In making its ruling, the supreme court cited Richter's Southwest Florida districts as among those across the Sunshine State that failed to meet constitutional muster, even describing its physical shape on the map as resembling "an upside down alligator."
In response, the Florida Senate's redistricting committee release new maps last Saturday and in the new maps, Sen. Richter's district is greatly compressed to include a large part of Bonita Springs and reach inland almost to Immokalee. In fact, the "new" new district map includes the southern one-third of Lake Trafford in Richter's district, the Big Corkscrew community and plenty of agricultural land southwest of Immokalee.
Richter told the Naples Daily News that while he, personally, stayed out of the redistricting discussions, the new districts won't change his outlook when it comes to his duties in Florida's upper house.
"I believe it's my duty to represent Southwest Florida. I don't pay tremendous attention to where a line is drawn," he said and pointed to the example of Immokalee.
Although it's never actually been in his district, most Immokaleans look to Richter as their de facto state senator and know he listens when Immokalee has concerns and interests in the Florida Legislature.
The actual state senate district in which Immokalee is included is a large and sprawling district that runs from the Keys to Hendry and Desoto counties. It will be represented by a new state senator when the 2012 session of the Florida Legislature rolls around because its current representative, Sen. Larcenia Bullard, D-Miami, is retiring due to term limits.
The redrawn and amended "new" Senate district maps will still need to earn the approval of the Florida Supreme Court.